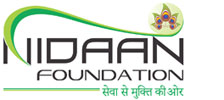 "Strive constantly to serve the welfare of the world; by devotion to selfless work one attains the supreme goal of life. Do your work with the welfare of others always in mind." – The Bhagavad Gita
At the core of Niddan Foundation is the selfless devotion to work towards the welfare of all beings, with the blessings of elders and the Almighty God.
Nidaan Foundation, a registered NGO with Ministry of Corporate Affairs, Government of India, under the Company Act 1956, Section 25 on August 24, 2012 in New Delhi, focuses on building a robust foundation for spiritual and humanitarian work.
Through the foundation, we also serve the under-privileged members of Mahanubhav family, providing them with basic facilities and helping them in their difficult times.
Mahanubhav, which is also known as Jai Krishni Pantha, was started by Sarvadnya Shri Chakradhar Swami in 1267 as a religious and social movement, wherein all members were accepted irrespective of their castes. The Hindu sect focuses on the teachings of Lord Krishna.
Along with supporting religious activities, the foundation also works for providing basic education in far-flung areas, creating awareness about cleanliness, importance of moral values and spirituality. Nidaan Foundation has also undertaken various humanitarian activities such as distribution of food and water during drought and other natural calamities.
NIDAAN FOUNDATION Corporate Identity Number (CIN)
U85300DL2012NPL240959
Corporate Identity Number
U85300DL2012NPL240959
Registered under Section 25 of the Companies Act, 1956
Registered under Section 80g of the IT Act (N-1681)
PAN No.
AAECN0996P
MAILING ADDRESS
282, 2nd Floor, Satya Niketan,
Opposite Sri Venkateswara College,
New Delhi-110021, INDIA
DIRECTORS
P. M. Sh. Shant Muni Bidkar
Mrs. Ritu Kapur